A deviated septum is a condition in which the thin piece of tissue between your nostrils (the septum) is not centered. Dr. Monica Tadros, a board-certified surgeon, specializes in deviated septum surgery for her patients in Englewood, NJ.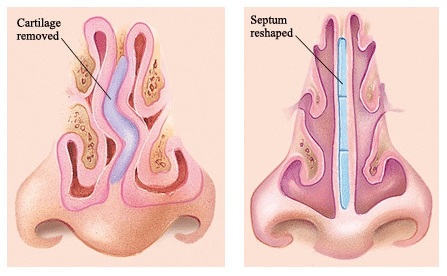 According to the American Academy of Otolaryngology-Head and Neck Surgery, it is estimated that 80 percent of people in the United States do not have a straight nasal septum.
The septum is the bone and cartilage that divides your nose in half. A deviated or displaced septum may cause snoring, nosebleeds, create difficulty breathing, and can also cause recurrent sinus infections which can be painful and even disrupt your vision.
Dr. Tadros accepts most POS and PPO insurance for any medical issues related to the nose as an out-of-network provider. Please contact us today or call NYC: (201) 408-5430 or NJ: (201) 408-5430.
What is a Deviated Septum?
The septum is the piece of cartilage and bone that separates the two nostrils. When you have a straight septum, it allows air to pass smoothly through the nostrils. When the septum is deviated (crooked), it results in difficulty breathing through the nose as well as some other issues. NJ patients who have a deviated septum may experience problems with their nose including:
Nosebleeds
Facial pain
Headache
Postnasal drip
Snoring
Difficult breathing
Sinus pressure
Sleep apnea
Causes of Deviated Septum
The septum may be easily injured by playing sports activities, falls or minor accidents. Unless you had a severe injury, a deviated septum could remain undiagnosed until you start having breathing difficulties. This condition may also be present at birth either from the stress of childbirth or prenatal injury.
Deviated Septum Surgery in Englewood, NJ
A septoplasty is a surgical procedure to reposition the cartilage and bone in the septum. Dr. Monica Tadros specializes in septoplasty to help correct a deviated septum for her patients at her NJ & NYC plastic surgery center. The procedure involves using incisions placed inside the nose, which leaves no visible scarring after the procedure.
A septoplasty may be done using local or general anesthesia and is performed in Dr. Tadros' office in Englewood, NJ.
During your deviated septum surgery with Englewood ENT Dr. Tadros, she will carefully reposition the bone and cartilage in the nose.
A septoplasty is usually performed in 1-2 hours. It is an outpatient procedure and most patients in Englewood, NJ may go home the same day. Due to the use of anesthesia, you must arrange for a ride home. You are not allowed to drive for the first 24 hours after your deviated septum surgery.
Recovery
After your deviated septum surgery in NJ, it is strongly recommended to follow the written instructions provided by Dr. Tadros and her staff to ensure a complete and uncomplicated recovery. It is necessary to keep your head elevated using several pillows and to avoid lying flat. Take only the medication that has been prescribed for you by best surgeon in NJ.
You will have bandages under the nose to collect blood and fluid, which will drain for about a week. The bandages will need to be changed frequently over the first 24 hours.
During your deviated septum surgery recovery, you will also experience nasal congestion for a few weeks as the nasal passage heals. Do not blow your nose during the first week. Avoid the urge to clean the inside of the nose, as this will disturb the healing process. You may gently clean the outside of your nose.
We strongly recommend avoiding drinking alcohol or taking any pain medication such as aspirin or Motrin. This will increase bleeding which can cause healing complications.
Results
Septoplasty results for patients who offer effective and permanent treatment related to breathing difficulties. Dr. Tadros is proud to deliver the best-deviated septum surgery in Englewood and throughout the Bergen County area. Patients report that they can breathe more easily, have no more nasal congestion, are free from sinus headaches and can finally enjoy a good night's sleep.
Engelwood patients also report having a much higher quality of life as a result of septoplasty surgery.
About Dr. Monica Tadros
Dr. Monica Tadros, M.D., F.A.C.S., is known as the leading ENT Doctor in Englewood, NJ and Bergen County. She offers her patients compassionate care and cutting-edge research in the field of nasal and sinus diseases.
Professor of Otolaryngology-Head & Neck Surgery at the prestigious Columbia University in 2006, where she taught many generations of residents and medical students, the art and science of Form and Function. Our surgeons treats a wide range of problems including nasal allergies, chronic sinusitis, nasal polyps, nasal obstruction and sinus.
Consultation
If you are experiencing the symptoms of a deviated septum, please call Dr. Tadros at NYC: (201) 408-5430 or NJ: (201) 408-5430 for a deviated septum surgery consultation and examination in Englewood, NJ. You may also fill out the contact form to receive additional information about Septoplasty. Our offices are conveniently located near 300 Grand Ave Englewood, NJ, 07631 and 911 Park Ave., New York, NY 10075.