Rhinoplasty (Nose Job) Surgery in NJ & NYC
Rhinoplasty, also known as a nose job, is the most common procedure performed in our accredited facility for facial plastic surgery. Only a few nose surgery doctors, including a rhinoplasty surgeon in NJ and NYC, Dr. Monica Tadros, are well-versed in the newest surgical techniques and are deemed to truly master the wide scope of technical nuances.
Why Should I Choose Dr. Tadros To Perform My Rhinoplasty Procedure?
Monica Tadros, M.D., F.A.C.S. | Plastic Surgeon In NYC & NJ[/caption]
Dr. Tadros has been a distinguished nose job specialist in Bergen County, NJ for the past 20 years. She has performed more nasal surgeries than any other facial plastic surgeon in New Jersey and is among the most sought-after rhinoplasty doctors in the country.
Are you still doubting? Dr. Monica Tadros is proud to be among a handful of specialists who:
Is a dual board-certified provider in Otolaryngology, Facial Plastic & Reconstructive Surgery
Is known for providing consistent outstanding results, predictable aesthetic results
Has earned some of the nation's most prestigious awards
Has been voted as a Castle Connolly Top Doctor as well as New Jersey Super Doctors and has been voted to the prestigious list of New Jersey Magazine Best Doctors
Exceptional surgical skills in conjunction with meticulous planning and outstanding aesthetic results have allowed Dr. Tadros to become the best rhinoplasty surgeon in New Jersey and across the U.S.
What Is the Anatomy of the Nose?
The nasal bone, cartilage, and the septum determine the shape of your nose. The bone supports the bridge of the nose. The upper cartilage supports the sides of the nose. The nasal cartilage creates the width and shape of your nose. The nasal cavity is the hollow space behind the nose through which air flows. The septum, made of bone and cartilage, separates the nose. The septum creates two nasal cavities.
The mucous membrane lines the inside of your nose, throat, and sinuses. It warms and cleans the air you breathe in. The sinuses are the hollow chambers around your nose that drain the mucus.
The turbinates are the curved bony ridges inside the nose. They also help warm and clean the air. Cilia, the little hairs in your nose, are there to further filter the air you breathe. Cilia protects from dust and other particles from getting into the lungs.
When you breathe in through your nose the cilia, mucous membrane, and turbinates filter the air. The air travels from your nose to your lungs and bronchial tubes through the trachea.
What is Rhinoplasty?
Rhinoplasty is a surgical procedure aimed at alleviating any concerns with your nose. These include correcting breathing, restoring trauma, and refining the shape of the nose. The rhinoplasty procedure is deemed to be a surgery that is not difficult to perform but extremely challenging for consistent outstanding outcomes. Hence, outstanding surgical skills in combination with enormous experience are prerequisites for reproducible good outcomes.
Dr. Tadros is an expert in rhinoplasty in NJ & NYC. She creates a plan for her patients who desire a more harmonious nose shape. Our nose plastic surgeon accepts most POS and PPO insurance. She is an out of network provider.
Why do most people consider the nose the defining feature of the face? Why do they wish to undergo a nose job surgery? The nose imparts an initial impression. In ideal situations, the character of one's nose suits their personality. It is important for your nose to complement your remaining features. In less than ideal situations, the nose lacks definition. It can overpower the face if it is not harmonious with your features.
What Are the 4 Distinct Types of Rhinoplasty?
Cosmetic rhinoplasty improves the nasal shape and its proportion to the rest of the face. During this type of procedure, the nasal surgeon makes cuts within the nostrils. She reshapes the bone and cartilage to produce a more aesthetic appearance.
Functional rhinoplasty alleviates breathing difficulties. This type of procedure deals with structural problems, obstruction, or past trauma to the nose. The appearance of the nose may improve during this procedure, but that is not the primary goal. A functional nose job can improve your overall quality of life by helping you breathe better.
Reconstructive rhinoplasty rebuilds a severely damaged or congenitally malformed nose. This type of procedure can repair trauma, scar tissue, or deformity. The aim of this type of surgery is to return the nose to its natural shape. This procedure can also remove cancerous cells and restore your self-confidence after cancer surgery. Dr. Tadros uses skin flaps or skin graft missing tissues and opens up the airway. Restoring proper nasal function and improving appearance are the main goals of the procedure.
Revision rhinoplasty corrects a suboptimal result from an earlier surgery. Revision surgery is for patients who have undergone a nose job before and wish to fix or change the result. Scar tissue from previous surgery is a problem that revision surgery can fix.
What Are the Two Common Approaches To Rhinoplasty?
Our best rhinoplasty surgeon in NJ & NYC Dr. Tadros considers specific peculiarities of your case and your goals for surgery before deciding on the best rhinoplasty approach for you. The differences between the two approaches entail:
Open Rhinoplasty
The open rhinoplasty procedure is used for major nose reshaping. During this surgery, the doctor makes an incision in the strip of skin. This separates the nostrils. With the skin and soft tissue lifted off, the surgeon can work with the underlying nasal anatomy.
The advantage of this technique is that it provides the doctor with direct visualization of the cartilage and another nasal anatomy. This gives the ENT rhinoplasty specialist the ability to manipulate nasal shape with more control and precision.
Closed Rhinoplasty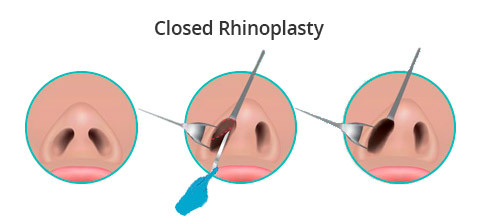 With a closed rhinoplasty, the incisions are made within the nose. The skin, separated from the bone and cartilage, allows the surgeon access to the underlying structure. The bone and cartilage are reshaped, removed, or augmented to achieve the desired shape or structural correction.
Closed rhinoplasty has the advantage of decreased surgery time. It involves less swelling and postoperative healing time.
What Are the Benefits of Rhinoplasty?
Either for correcting the functional issues or improving the appearance of the nose, rhinoplasty can provide outstanding results if performed by an experienced specialist like Dr. Monica Tadros.
Some of the most appreciable advantages of rhinoplasty include:
Enhanced appearance of the nose
Improved breathing
Improved self-esteem
Better overall facial aesthetic
Enhanced balance and harmony between other facial features
Watch the video below of double board-certified nose plastic surgeon Dr. Monica Tadros, discussing the benefits of having a nose job.
Who Is an Ideal Candidate for a Nose Job?
While being the most trusted and respected facial plastic surgeon in New Jersey, Dr. Tadros puts an emphasis on the fact that there are no scientifically proven ways of detecting high-risk rhinoplasty patients. Hence, during the first consultation, she conducts an in-depth facial analysis and determines whether the patient's expectations are achievable.
Generally, Dr. Tadros takes into consideration the following factors to determine if you are a good candidate for the procedure:
Age
Patient's expectations
Six parameters of the nose
Breathing issues in the past
Records of sinusitis
History of obstructive sleep apnea
Past hospital admissions
Use of medications
History of mental illnesses
Adult and teen rhinoplasty can only be performed when nasal structures have developed completely. This is approximately 17 years old for males and 15 years old for females. If you are younger than 18 years old, you should have parental consent to undergo surgery.
What Are the Contraindications to Rhinoplasty?
Prior to committing to surgery, Dr. Tadros takes sufficient time to make sure that a patient's health is in good order. If you are suffering from any of the aforementioned disorders, the procedure may not be safe for you.
The most compelling contraindications to rhinoplasty procedure include:
Body Dysmorphic Disorder (BDD)
Obstructive Sleep Apnea
Cocaine Abuse
Diabetes and severe heart conditions
Tobacco Smoking
Bleeding Disorders
Having unrealistic expectations of the procedure
Being on blood thinners that you cannot stop for 2 weeks prior to surgery
How Long Does the Recovery Process Take?
You will wear a nose splint for the first week. You will have slight bruising and swelling around the nose and eye area. This will gradually dissipate over the course of a few days or weeks.
While recovery is different for every rhinoplasty patient, you can generally expect the following:
A slight headache and minor pain
Congestion
Sleep interference
Besides following doctor's orders, a few things you can do to maximize your recovery include:
Avoid vigorous exercise
Avoid heavy chewing
Don't laugh or smile too hard
Avoid pulling clothing over your head
Keep your new nose out of the sun
What Are the Possible Complications of Rhinoplasty?
Rhinoplasty is considered the most challenging surgical procedure because of its limited aesthetic predictability. Outstanding immediate results after the procedure might be completely different one year later. Limited predictability is attributed to the dynamics of the healing process. Various types of tissues are involved in the healing process and the individual reaction of these tissues is extremely difficult to anticipate.
The enormous experience of Dr. Tadros allows her to conduct an accurate preoperative analysis that helps detect all the potential complications. Even though Dr. Tadros takes all the necessary steps to avoid any issues, all the potential risks and complications are communicated to the patient prior to rhinoplasty surgery.
As a world-class nose job surgeon, Dr. Tadros differentiates between five groups of rhinoplasty complications:
Hemorrhagic

Septal hematoma
Postoperative bleeding

Infectious
Traumatic

Injury to the Lacrimal Ducts
Intracranial injury

Functional

Septal perforation
Nasal adhesions
Rhinitis

Aesthetic
How to Choose the Best Rhinoplasty Doctor?
When it comes to NJ rhinoplasty, choose the right surgeon. Find someone who feels comfortable evaluating and treating the entire nasal organ. A facial plastic surgeon Dr. Tadros, M.D. is double board-certified in Facial Plastic Surgery and Otolaryngology-Head & Neck Surgery (ENT). She has the most training to treat both your structural and cosmetic concerns.
Dr. Tadros has a unique background in the Form and Function of the nose. She is renowned for her aesthetic eye. The result is superior surgical rhinoplasty outcomes for her patients in New Jersey and New York. This formed the foundation of her success. She is an educator, international and national guest professor, and Director of Facial Plastic Surgery at Columbia University. At Columbia, she taught other surgeons in training for a decade.
Whether it is a cosmetic, functional, ethnic, or male rhinoplasty procedure, Dr. Tadros' success starts with her individualized approach toward surgery. Dr. Tadros is a top-rated facial plastic surgeon and believes that "No two noses should look alike". Nose jobs are unlike other rejuvenation plastic surgery. Modern-day nose surgery requires an artistic sensibility. This aesthetic vision distinguishes specialist surgeons.
Dr. Tadros formulates a treatment plan as individual as you are. She takes the time to listen to your needs and considers them. She takes into account your ethnicity (especially important for ethnic nose job), gender, prior trauma or nasal surgery, breathing or sinus problems, and your unique facial attributes. After a thorough evaluation, Dr. Tadros will counsel you on what may be the best rhinoplasty option for you.
Published Data
Statistics
According to the study published by the American Society of Plastic Surgeons, more than 1.8 million plastic surgeries were performed in 2019. Rhinoplasty accounted for about 12% of all surgeries. Nose reshaping was the fourth most common cosmetic procedure in the United States in 2019. The U.S. citizens spent over $16.7 billion on cosmetic procedures and rhinoplasty accounted for more than $3.46 billion.
When it comes to age distribution, people between the age of 20 and 29 were the most common rhinoplasty patients. Because of various health disorders that people over 54 tend to have, a rhinoplasty procedure may not be safe for them. Hence, only 20,493 nose job surgeries were performed on patients between the age of 54 and over.
| Age Group | No. of Rhinoplasty Procedures | % Out of Total Procedures |
| --- | --- | --- |
| 13 - 19 | 29 634 | 14.3% |
| 20 - 29 | 64 944 | 31.3% |
| 30 - 39 | 48 448 | 23.4% |
| 40 - 54 | 43 765 | 21.1% |
| 54 and Over | 20 493 | 9.9% |
Satisfaction Rate
In comparison to other cosmetic procedures, rhinoplasty has a relatively low satisfaction rate. The reasons for that are potentially unrealistic patient expectations and the complexity of the procedure. According to the research published on PubMed, the overall satisfaction rate after rhinoplasty is around 84%. When it comes to gender and satisfaction rates, females tend to be more satisfied after the nose job than males, accounting for 87.1% and 56.1%.
Only a few rhinoplasty doctors in New Jersey and across the United States have a high success rate of a nose job and Dr. Tadros is proud to be one of them. Enormous experience in conjunction with attention to detail and commitment to outstanding results allow Dr. Tadros to perform the procedure with the highest caliber of quality resulting in a success rate of over 92%.
Frequently Asked Questions
What Other Associated Nasal Conditions Should Be Evaluated Before Rhinoplasty?
Cosmetic rhinoplasty changes the architecture of the nose. Usually, this involves making the nose smaller. Nose surgery may unmask structural problems you didn't even know were there. Some problems include a deviated septum, an unstable nasal valve or hypertrophic turbinates. These issues result in breathing problems or poor circulation in the sinuses.
What Are the Risks of Rhinoplasty?
All surgeries carry some risks. Some possible rhinoplasty risks include:
Infection
Nosebleeds
Scarring
Trouble Breathing
Pain and Swelling
Numbness Around the Nose
How Much Does Rhinoplasty Cost?
The final cost of your rhinoplasty depends on several factors, including:
The type of nose job you need
Anesthesia costs
Operating room costs
Other related expenses
You should take into consideration the cost of post-surgical medication. Revision surgery is more complex, and therefore, more expensive.
Is My Rhinoplasty Covered by Insurance?
You must first consult a surgical specialist, a physician, or a facial plastic surgeon. Dr. Monica Tadros is a double board-certified surgeon in NYC. This makes her qualified to evaluate and treat nose-related conditions. A qualified surgical specialist first makes a diagnosis. She will then recommend a surgical procedure plan for your particular case. Your plan is based on your goals and desired look of your nose. In general, if there are medical reasons for rhinoplasty, you should expect your insurance carrier to cover the cost of surgery.
Here are the rhinoplasty procedures that are covered by your health insurance provider.
Deviated Septum Surgery (Septoplasty or Septal Reconstruction)
Surgery for a deviated septum is called septoplasty, or septal reconstruction. This surgery involves straightening the septum to address breathing problems that arise from a crooked septum. A deviated septum is something that many patients are born with. Patients elect to have this repaired as adults because of breathing problems. Others develop a deviated septum as a result of some injury to the nose. Many patients do elect to have their nose reshaped at the same time as having septal surgery. However, each procedure can be done without the other.
Enlarged Turbinate Reduction Surgery
The turbinates are structures inside the nose that run parallel to the nasal septum. They help your nose humidify inspired air. There are three pairs of turbinates in the nose – the inferior, middle, and superior. In most cases of nasal obstruction, the inferior turbinate is the culprit. In many patients we see in our office, the turbinates become enlarged. This can block the nasal airway in terms of breathing. Turbinate reduction surgery is intended to make the turbinate structurally smaller. This reduces the activity of the turbinate so that there is less nasal congestion.
Nasal Valve Stenosis Surgery
Nasal valve stenosis implies a specific condition where the nose is blocked on the inside due to the narrowing of either the external or internal valve. These two critical areas inside of the nose refer to the nostril opening and the middle one-third of the nose on the inside, respectively. Nasal valve surgery is primarily intended to help improve your nasal function. Usually, there is some passive change in the appearance of the nose from the graft placement.
Repair Of A Fractured (Broken) Nose
Repair of a fractured or broken nose is a very common procedure. A broken nose repair is normally covered by your health insurance. In most cases, patients who have fractured their nose elect to repair it within the first two weeks of sustaining the injury. Others choose to wait months to years before having the broken nose fixed. With repair, there is some degree of visible change to the appearance of the nose. In this type of injury to the nose, the septum is addressed at the same time as the fractured nose repair.
How To Prepare For Rhinoplasty?
Before your surgery, you should let your doctor know all the medications you take. Stop using any non-steroidal anti-inflammatory medications (Advil, Motrin, naproxen) two weeks before surgery. Acetaminophen is fine. You should avoid smoking for 2 weeks before your procedure. Do not eat or drink anything after midnight the day before your surgery. Make arrangements to have someone drive you home. Try to stay in the New York area if you live far.
On the day of your surgery, you should arrive at our office a little early. Wear loose-fitting comfortable clothing and avoid wearing any jewelry. You can wear your glasses but don't wear contact lenses.
What Should I Expect on the Day Of My Procedure?
On the day of your surgery, your doctor for rhinoplasty will make sure you have stopped taking your medication. It is normal to feel nervous on the days coming up to your surgery. Your nose surgeon will give you sedatives. An anesthesiologist will administer anesthesia. Your doctor will make sure you are comfortable. The surgery takes about 1.5 to 3 hours. You will be able to return home the same day. The doctor will give you gauze and nose padding that need to be replaced once a day.
Are Rhinoplasty Results Permanent?
The results of your nose job are permanent. It is important to choose a qualified experienced plastic surgeon. Make sure you express your goals for your new nose to your nose surgeon. Dr. Tadros can show you what your new nose will look like with a digital nose viewer. Make sure you ask any questions you may have before your rhinoplasty in New Jersey.
Reference List
Consultation
Interested in learning more about the different types of rhinoplasty procedures? Schedule your no-obligation nasal surgery consultation with the best plastic surgeon in NYC & NJ today. Her two offices are conveniently located near 300 Grand Ave, Englewood, NJ 07631 and near 1000 Park Ave @ 84th St, New York, NY 10028. You may speak to one of our Patient Advisors to receive additional information by calling NYC: (201) 408-5430 or NJ: (201) 408-5430.